Mannix Company can design and build electric control panels to meet your equipment needs. No matter what size or configuration you need, we can meet and exceed your expectations.
Whether you require a simple start-stop station or a complete custom designed control panel with PLC logic and graphic displays; for either or anything in between, we can fulfill your needs.
Below are some examples of our electric control panels. (Or for pneumatic control panels, Click Here.)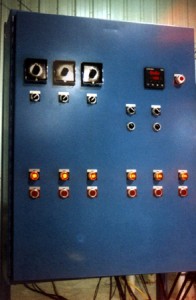 Infrared Oven Control Panel
This Infrared Oven Control Panel cured an adhesive spray coating for a large tennis shoe manufacturer. This was capable of controlling three zones for ramp curing.
Linear Servo Control Panel
Two linear actuators spraying UV coating on office furniture with PLC processor to control spray gun lead/lag were controlled by this Linear Servo Control Panel.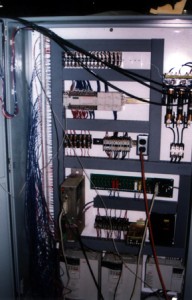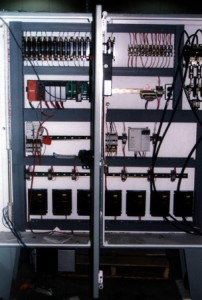 DC Conveyor Drives Control Panel
This control panel controlled seven DC drive conveyors with a PLC processor and VFD fan speed controller.
Touch Screen Control Panel
This control panel is completely controlled by the touch screen, with the exception of the emergency stop.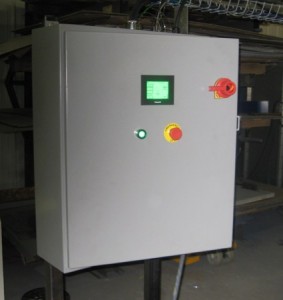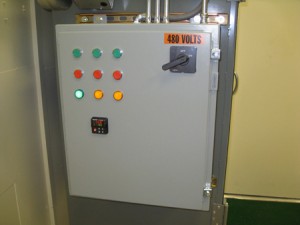 Electric control panel controlled easily accessible switches.
Here are some more examples of control panels from installations we have completed:
Give us a call today at (231) 972-0088 and our helpful staff will get you a customized quote.